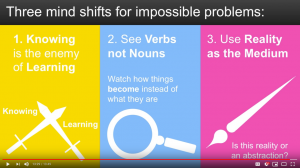 Advancements in Education 
IDEO.org Provides free education in Human-Centered Design, Prototyping to quickly communicate and test your ideas, and a workshop to help you become a workshop leader to share the concepts with others.  Anyone can be creative. Start with the problems you know well. What could be better? This approach will help you in any career, bring your unique talents and perspective to the world, and empower your community.
A directory of schools and programs that use design thinking in the curriculum for K12 students — a resource created by IDEOand the K12 Lab Network at Stanford's d.school.
DESIGN THINKING FOR EDUCATORS TOOLKIT by IDEO
A creative process that helps you design meaningful solutions in the classroom, at your school, and in your community. The Design Thinking for Educators Toolkit provides you with instructions to explore design thinking. Download the full toolkit here.