Trump's Empire: A Maze of Debts and Opaque Ties NY Times August 20, 2016  by Susanne Craig Graphic
Forbes, How Much Is Trump Worth? Note: Trump Sued Forbes for underestimating his wealth in 2006. 2013 valuation in Real Deal discussing the suit.

Lawsuits and Federal Investigations are underway for violation of the Emoluments Clauses, Money Laundering, Racketeering (a rumor until made official), and Obstruction of Justice, as public statements and actions, investigation and intelligence, have shown good cause that any separation of Trump from personal gain does not exist and may include foul play. See the Lawsuits page for information. The Tenants and Properties pages have links to Trump's Mafia and Russian ties.
While Trump is President, income from his 500+ businesses and licensing deals flow into DJT Holdings LLC and then The Donald J. Trump Revocable Trust.  Propublica.org  
The first big real estate sale after Trump's inauguration "was signed by Allen Weisselberg, the Trump Organization's chief financial officer, whom Trump tapped to serve along with his sons on the three-person panel that will run his company while he serves as president." Mother Jones
Trump Lawyer Confirms President Can Pull Money From His Businesses Whenever He Wants
"Previously unreported changes to President Trump's trust documents stipulate that the trust "shall distribute net income or principal to Donald J. Trump at his request…There is nothing requiring Trump to disclose when he takes profits from the trust, which could go directly into his bank or brokerage account. That's because both the trust and Trump Organization are privately held. The only people who know the details of the Trump trust's finances are its trustees, Trump's son, Donald Jr., and Allen Weisselberg, the company's chief financial officer. Trump's other son, Eric, has been listed as an adviser to the trust, according to this revised document."
"Trump Hotels CEO Eric Danziger signed letters of intent "with more than 20 developers to build the hotels… The last three were signed in just one week earlier this month (March 2017)." Propublica.org
Under the brand Scion, "One of the first going up could be in Dallas. A development company there originally planned to raise money from unnamed investors in Kazakhstan, Turkey and Qatar, but recently told the Dallas Morning News that it now will tap only the company's U.S. partners…A review of trademark databases by The Associated Press shows the Trump family has applied for rights to use the Scion name in several countries, including China, Indonesia, Canada and 28 nations in Europe. An application for trademark rights in the Dominican Republic was approved as late as December." AP News
THE TRUMP FOUNDATION
Trump shuffles money and gifts between his corporations and foundation for his own benefit as the following illustrates:
Trump Foundation admits to violating ban on 'self-dealing,' new filing to IRS shows Washington Post By David A. Fahrenthold November 22, 2016 "In one section of the form, the IRS asked whether the Trump Foundation had transferred "income or assets to a disqualified person." A disqualified person, in this context, might be Trump — the foundation's president — or a member of his family or a Trump-owned business. The foundation checked yes. Another line on the form asked whether the Trump Foundation had engaged in any acts of self-dealing in prior years. The Trump Foundation checked yes again. NY Attorney General Eric Schneiderman declined to comment, other than to say "our investigation is ongoing. During the presidential campaign, The Post revealed several instances — worth about $300,000 — where Trump seemed to have used the Trump Foundation to help himself. From 2009 until this year, the charity was funded exclusively with other people's money, an arrangement that experts say is almost unheard of for a family foundation."    Trump 2015 Tax   "The Trump Foundation's tax filing also shows that — for the first time in six years — the foundation received a donation from an entity controlled by Trump himself. It lists a donation of $566,370 from the Trump Corporation, an entity 100 percent owned by Trump himself. It also lists a $50,000 gift from Trump Productions, a Trump-owned business that produced "The Apprentice." Previously, the last donation to the foundation from Trump or one of his businesses had come in 2008. Trump's spokesmen did not respond to a question about the reason for these new gifts. In addition, the Trump Foundation reported a $150,000 gift from the foundation of Viktor Pinchuk, a powerful Ukrainian steel magnate. That was the first such gift from him."
"In two cases, The Post reported, the Trump Foundation appeared to pay legal settlements to end lawsuits that involved his for-profit businesses.
In one case, Trump settled a dispute with the town of Palm Beach, Fla., over a large flagpole he erected at his Mar-a-Lago Club. The town agreed to waive $120,000 in unpaid fines if Trump's club donated $100,000 to Fisher House, a charity helping wounded veterans and military personnel. The Trump Foundation paid that donation instead — effectively saving his business $100,000.
In another, Trump's golf course in New York's Westchester County was sued by a man who had won a $1 million hole-in-one prize during a tournament at the course. The man was later denied the money because Trump's course had allegedly made the hole too short for the prize to be valid. The lawsuit was settled, and details on that final settlement have not been made public. But on the day that the parties told the court that their lawsuit had been settled, the Trump Foundation donated $158,000 to the unhappy golfer's charity. Trump's golf course donated nothing.
Trump Portraits with Foundation money: In three other cases, Trump's foundation paid for items that Trump or his wife purchased at charity auctions. In 2012, Trump bid $12,000 for a football helmet signed by then-Denver Broncos quarterback Tim Tebow. In another case from 2007, Trump's wife, Melania, bid $20,000 on a six-foot-tall portrait of Trump painted by "speed painter" Michael Israel during a gala at Mar-a-Lago. And in 2014, Trump bid $10,000 to buy a four-foot painting of himself by artist Havi Schanz at another charity gala. In all three cases, the Trump Foundation paid the bill. Tax experts said that, by law, the items had to be put to charitable use. Trump's representatives have not said what became of the helmet or the $20,000 portrait. The $10,000 portrait was, however, located by Post readers, following coverage of the Trump Foundation. It was hanging on the wall of the sports bar at Trump's Doral golf resort, outside Miami. In September, a Trump campaign spokesman rejected the idea that Trump had done anything wrong, by using his charity's money to buy art for his bar. Instead, spokesman Boris Epshteyn said, the sports bar was doing the charity a favor by "storing" its art free of charge. In the new 2015 tax filing, the Trump Foundation acknowledged for the first time that it owned these items. But it listed market values far below what the foundation had paid: The helmet was valued at $475, the portrait purchased for $20,000 was valued at $700, and the portrait purchased for $10,000 was valued at $500. [How a Univision anchor found the missing $10,000 portrait that Trump bought with his charity's money]
In addition, the Trump Foundation reported a $150,000 gift from the foundation of Viktor Pinchuk, a powerful Ukrainian steel magnate. That was the first such gift from him. A spokesman for Pinchuk's foundation said that the gift was made as part of an agreement for Trump to speak — via video link — to a conference Pinchuk organized in September 2015. The conference, called the Yalta European Strategy annual meeting, was held in Kiev. At the time of his 20-minute speech, titled "How New Ukraine's Fate Affects Europe and the World," Trump was already a presidential candidate. Trump's spokesmen did not respond to a question about Pinchuk's gift." Washington Post
[How Donald Trump retooled his charity to spend other people's money]"  Washington Post 11/22/16
The Netherlands' ZEMBLA network VARA created a documentary exposing money laundering through the Netherlands and Trump's SoHo development. Rudy Giuliani's law firm, Bracewell & Giulliani, former mayor of New York, advisor to the Trump Administration, and defense attorney for Trump, provided legal backing for Bayrock. "it's pure money laundering, by setting up in the Netherlands in 2007, it laundered $1,5 million dollars. And the company is in hot water already, the State of New York is doing investigations into their tax fraud, large scale tax fraud – and Donald is a key figure. According to attorney F. Oberlander – prosecuting on behalf of New York State – the maximum jail term could be as long as 30 years! Trump, and Bayrock, have been working closely with some third parties, namely the Georgian-born Tamir Sapir and Kazakhstani Tevfik Ari and formed a new joint company Bayrock/Sapir Organization, LLC. Guess what? That company has been accused of grand scale fraud. Oh, and guess what else? That company was the developer behind Trump SoHo, the hotel condiminium Trump bought into for nearly 20% back in 2005. Soviet/Russian-ties confirmed. ZEMBLA has access to the communications between Bracewell & Giulliani and several dark figures in the former USSR. And I really do mean dark – people that embezzled hundreds of millions, people that were fugitives and had fraudulent government roles supporting controversial regimes. These people have worked with, and are directly tied to, Donald J. Trump." Dutch Review     ZEMBLA'S PROOF
TRUMP TOWER MOSCOW: November 12, 2013: "A replica of Bayrock/Sapir's Trump Soho hotel may be Moscow's first big new hotel in ten years. Alex Sapir and Rotem Rosen of the Sapir Organization, co-developers on the Soho hotel at 246 Spring Street, met with Russian developer Aras Agalarov and Donald Trump over the weekend to discuss plans for the new project — Trump's first in Russia. "The Russian market is attracted to me," Trump told Real Estate Weekly. "I have a great relationship with many Russians, and almost all of the oligarchs were in the room." The Real Deal
"Sam Kislin, a Ukrainian immigrant, issued mortgages to buyers of multimillion-dollar apartments in World Tower. It's highly unusual for individuals to issue formal mortgages for U.S. luxury real estate, and the tower loans are the only ones Kislin ever made in New York, public records show. Almost two decades earlier, Kislin had sold Trump about 200 televisions on credit. "I gave him 30 days, and in exactly 30 days he paid me back," says Kislin, now 82. "He never gave me any trouble." He says the televisions were for the Commodore Hotel, which Trump had bought in 1976 with Hyatt Corp. Trump purchased the sets from an electronics store that Kislin had opened in New York with Tamir Sapir, an immigrant from Georgia. It was famous among Soviets who would buy VHS players and tape recorders to take back home. Sapir later grew rich trading Russian oil. He invested the proceeds in New York real estate, eventually becoming one of Trump's development partners in Trump SoHo, a frequent focal point in inquiries about Trump's financial ties to Russia and questionable Russian money. Sapir died in 2014. Kislin became a fundraiser for Rudolph Giuliani's mayoral campaign, bringing in millions for the future Trump surrogate. Investigated by the FBI in the 1990s for allegations including mob ties and laundering money from Russia, Kislin was never charged, and he maintains his innocence. At Trump World Tower, Kislin provided a mortgage to Vasily Salygin, a future official of the Ukrainian Party of Regions linked to Russian President Vladimir Putin, to buy an 83rd-floor apartment. Salygin's time in office overlapped with Paul Manafort's tenure as an adviser to the party. Manafort later served as Trump's campaign manager before his Russian links led to growing criticism and his resignation. The push to sell units in Trump World Tower to Russians expanded in 2002, when Sotheby's International Realty teamed up with Kirsanova Realty, a Russian company. One reception at Moscow's swank Hotel Baltschug Kempinski pitched the tower alongside Trump's West Side condos and his building on Columbus Circle. Eduard Nektalov, an Uzbekistan-born diamond dealer, purchased a 79th-floor unit directly below Conway's for $1.6 million in July 2003. He was being investigated by federal agents for a money-laundering scheme, which involved smelting gold to make it appear like everyday objects that were then hauled to drug cartels in Colombia. Nektalov sold his unit a month after he bought it for a $500,000 profit. Less than a year later, Nektalov, rumored to have been cooperating with authorities, was gunned down on Manhattan's Sixth Avenue.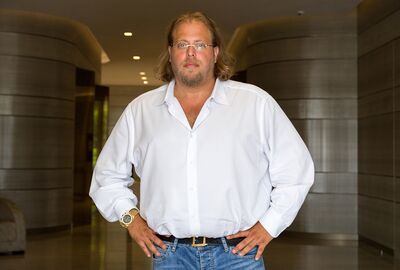 "If you keep f****** with Mr. Trump We Know Where You Live" Buzzfeed May 1, 2017    "Trump's casino business went bankrupt, and then a lawyer representing investors told police he got a menacing call from a man who said "we're going to your house for your wife and kids" if he didn't stop "fucking with Mr. Trump." The FBI determined the call came from a phone booth across the street from the theater where Trump was appearing on The Late Show with David Letterman."   
"In July, he refinanced $160 million of debt against the building [40 Wall Street] with Ladder Capital Corp., public records show. Even if some 40 Wall St. tenants have gone to prison, the building has done better than other Trump endeavors. Trump was in the process of renovating his career when he took over the tower in 1995. The billions of dollars of debt that fueled his 1980s rise almost wiped away his empire at the beginning of the next decade. His casinos went bankrupt, and he lost his yacht — built for Khashoggi. But a deal with lenders saved him from ruin. A few weeks before Trump signed the lease for 40 Wall St., friends threw him a lunch to celebrate his rebound, praising his comeback and even joking about a possible career in politics.Trump Entertainment Resorts Inc., the casino operator he founded, emerged from bankruptcy-court protection this year. He lost control of Trump Shuttle, his airline, in the early 1990s. Trump Vodka, the liquor he licensed even though he despises alcohol, collapsed after the 2008 financial crisis. Trump Steaks disappeared around the same time. Trump Mortgage, on the 25th floor [of 40 Wall St.], was launched at the height of the housing bubble and closed in 2007. " Bloomberg June 22, 2016
Amanda Miller is a spokesperson for the Trump Organization.
What does Donald Trump really own? The Real Deal, July 1, 2013
Developed but sold most of the individual units since:
Trump Tower
Trump Park Avenue at 502 Park Avenue
Trump World Tower 845 United Nations Plaza "Presidential counselor Kellyanne Conway and Michael Cohen, his personal lawyer, bought units. Cohen got his Ukrainian in-laws to buy, too. Most of the units were bought before the tower was built, and prices weren't disclosed. Trump World Tower ended up as a model for future developments—with money drawn from sales in Moscow.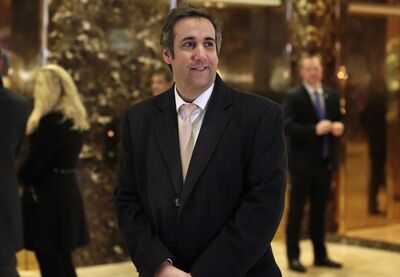 Two months before Trump broke ground in October 1998, Russia defaulted on $40 billion in domestic debt, the ruble plummeted, and some of the biggest banks started to collapse. Millionaires scrambled to get their money out and into New York. Real estate provides a safe haven for overseas investors. It has few reporting requirements and is a preferred way to move cash of questionable provenance. Amid the turmoil, buyers found a dearth of available projects. Trump World Tower, opened in 2001, became a prominent depository of Russian money.   Michael Cohen Photographer: Richard Drew/AP Photo
"In 1986, Interstate Properties and Donald Trump each bought approximately 20% of Alexander's, a failing retailer whose real estate holdings included its flagship store, occupying the entire block between East 58th and 59th streets and Lexington and Third avenues. [3] In 1988, they each raised their stakes to 27% but Trump pledged his interest as collateral for a personal loan from Citicorp and in 1991, Trump was forced to turn over his holdings to the bank.[4] In 1992, Roth and Alexander's creditors forced Alexander's into bankruptcy.[5] Alexander's emerged from bankruptcy in 1993 as a real estate investment trust. That same year, Vornado Inc. was converted into a REIT, Vornado Realty Trust. In 1995, Vornado bought Citicorp's interest in Alexander's.[6] Wikipedia 
1976 Trump bought the Commodore Hotel with Hyatt Corp.