National Security Aide until resignation August 25, 2017. Deputy Assistant to Trump/Chief Strategist and on the Strategic Initiatives Group
Resignation Letter on The Federalist, which broke the news.
---
American Oversight HATCH ACT: Nonpartisan ethics watchdog group American Oversight today asked the Office of Special Counsel (OSC) to investigate whether White House adviser Sebastian Gorka violated the Hatch Act by posting political tweets from President Trump's recent campaign rally in Ohio. July 28, 2017
---
American Oversight Failure to Disclose Membership in a Nazi group on Security Clearance Forms "On March 16, the Forward reported that Mr. Gorka may be a member of Vitézi Rend, citing interviews with current members of the group. If substantiated, this affiliation would raise a number of serious questions warranting congressional investigation – including whether Mr. Gorka may have violated federal law if he failed to disclose his membership in the group when he was being vetted for a security clearance."  March 16, 2017
---
What Is Vitézi Rend, The Ally Of The Nazis That Sebastian Gorka 'Joined' Fast Forward  March 16, 2017 By Lily Bayer and Larry Cohler-Esses "The group's mission emphasized not only loyalty to Hungary and nationalist ideas, but also an ideology of racial superiority. One of the original aims of the Vitézi Rend was to "ensure such might to the Hungarian race, which with tremendous power strikes every subversive state and anti-national movement," [Admiral Miklos] Horthy said in a speech to new members in 1921. The Quisling group to which Gorka, 46, purportedly belongs is a reconstitution of the original group on the State Department list, which was banned in Hungary until the fall of Communism in 1989."
DHS hires Gorka's wife for top advisory role  The Hill BY JOHN BOWDEN – May 23, 2017  Katherine Gorka to serve as adviser to the Department of Homeland Security's chief of staff
"Former Breitbart writer/ Seb Gorka's wife
Katherine Gorka is leaving her position as
press secretary for Customs and Border Protection
, just about two months to the day after her appointment – administration sources"
@ahauslohner 
Abigail Hauslohner 9:59 AM · Aug 20, 2019
---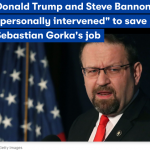 Trump and Bannon 'Personally Intervened' to Save Seb Gorka  The Daily Beast May 5, 2017  "Gorka and Bannon are close. They worked together at Breitbart News—the far-right Trump-boosting outlet that Bannon once ran as a "dictator," according to former employees—where Gorka served as national security editor even as he was also a paid consultant for the Trump campaign."

Sebastian Gorka gets paid a lot of money to do not much of anything  June 30, 2017  Death and Taxes
Sebastian Gorka accidentally included a Jezebel writer in a White House email April 6, 2017 Death And Taxes: The Jezebel writer stated: "He's clearly sensitive… about any indication that he's not honest about his résumé. But Gorka's refusal to provide comment on basic matters of public interest like what he was doing in the army only raises doubts. I had the same experience previously, when I asked about his describing himself as an expert witness in the Boston bombing case, despite not having testified, and when I contacted the White House to ask about his being detained for carrying ammunition through an airport in 2004. The first time, neither Gorka nor the White House ever responded to my inquiries; the second, Gorka accidentally included me in a reply-all email, instructing White House Press Secretary Sean Spicer not to comment."
"The Strategic Initiatives Group is run by assistant to the president Christopher Liddell, and includes deputy assistant to the president Sebastian Gorka, who has worked closely with Bannon while writing for Breitbart, the website he used to run. Gorka is a controversial character himself, author of a book, Defeating Jihad: The Winnable War, that argues the enemy is not, as the Obama administration saw it, "violent extremism," but instead "the global jihadi movement, a modern totalitarian ideology rooted in the doctrines and martial history of Islam," according to promotional material for the book. Gorka also faced a criminal charge for trying to take a gun through airport security, according to The Wall Street Journal. The White House could not be immediately reached for comment on the status of the case.
Sebastian Gorka Likely to Be Out of White House Role, Officials Say NY Times  "Mr. Gorka, a former editor at Breitbart News, a right-wing website, is a friend of Stephen K. Bannon, the onetime Breitbart chairman who is now Mr. Trump's chief strategist. Mr. Gorka memorably declared that "the alpha males are back" as an assertion of the distance between the Obama administration and the current one. He has been accused of having links to far-right groups in Europe, and critics of his hard-line views on Islam have accused him of Islamophobia. Mr. Gorka, a vocal defender of the administration's efforts to temporarily ban travel from some predominantly Muslim countries, has said violence is a fundamental part of Islam and emanates from the language of the Quran. He rejects scholars' assessment that Islamic militancy is an outgrowth of poverty, poor governance and war."
White House Weighs Kicking Out Sebastian Gorka The president admires Sebastian Gorka for his fiery TV performances, but his ties to far-right organizations are making him more liability than asset, administration sources say. The Daily Beast April 28, 2017

Bannon, Gorka, and Flynn share a like-minded view on the perils of Islamic terrorism, with Gorka giving his first interview in his new role on Tuesday to The Counter-Jihad Report, a blog run by controversial activist Leslie Burt.
"We are at war with global jihadism," he said. "The fact is, we know that ISIS has declared in English, in its publications, in its videos, 'We will use the refugee streams and mass migrations to insert our jihadis into your cultures,'" he said, explaining the weekend executive order as a necessary evil to protect Americans from ISIS infiltration. "  The Daily Beast January 31, 2017
"Two senior administration officials said Trump and Bannon had shot down an attempt to eject Gorka from his government job, even after dozens of congress members called for his firing after video surfaced of Gorka endorsing radical nationalist group Jobbik's violent, anti-Semitic Hungarian Guard militia.
There was pressure on the administration to do something about Gorka, a dubiously qualified counterterrorism official, after he had worn a pin associated with World War II-era Nazi collaborators to inaugural festivities.
Gorka's views on Islam have also been widely characterized as extreme. He refused to admit it is a religion in several recent interviews, suggesting an affinity with the fringe, far-right belief Islam is not a religion at all but a totalitarian ideology." MIC.com
"The U.K.'s defense ministry is pushing back on claims made by White House adviser Sebastian Gorka regarding his military record with the Territorial Army, the country's reserves, as a language specialist. Gorka, who is Hungarian born, has claimed in the past that his reserve unit was charged to prevent terror attacks, and that he worked in Northern Ireland—both of which were questioned by the U.K.'s defense ministry, according to BuzzFeed News. The website also reported that these doubts about Gorka's military record contributed to his security clearance to work in the Hungarian Parliament being denied. The ministry concluded that it would be highly unlikely." The Daily Beast May 2, 2017