Antifa refers to violent Anti-Fascist protesters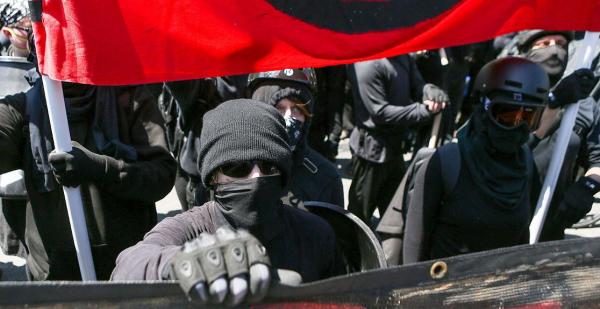 Antifa.com is owned by Russians, but available for sale at $20,000.
You may not be aware of them, or you may be terrified of them. It depends on who you listen to.  Tyler Durden writes articles on "Antifa" for the Libertarian blog Zero Hedge.
Articles like "What to do if all hell breaks loose during tomorrow's Antifa 'Uprising'" followed by "It's A Dud" – Nationwide Soros-Funded, Antifa 'Uprising' To Remove Trump From Office Fails" emotionally prepare its readers to anticipate violence. They are afraid of "Antifa" because of the articles they read and the constant repeat of isolated incidents. As the protests on 11/4 were peaceful, they get labelled "a DUD", as if that were a boring failure.  Further, the common myth that George Soros was woven into the commentary. People believe old, humanitarian George Soros hires a radical leftist army of protesters.
"Antifa" Responsible for Sutherland Springs Murders, According to Far-Right Media  Newsweek
"For anyone monitoring America's far-right, it was only a matter of time before Devin Patrick Kelley, the man identified as the Sutherland Springs, Texas, shooter, became "antifa."Antifa, a leftist protest movement with no organizational hierarchy whatsoever, was blamed for the mass shooting in Las Vegas by Alex Jones' conspiracy website Info Wars. They were responsible for allegedly plotting a civil war involving supersoldiers Saturday—one that utterly failed to manifest. And on Sunday, after a man murdered at least 26 people in a Texas church, the right's conspiracy peddlers waited only a matter of hours to try to blame the violence on leftists.
Alex Jones, who devoted his entire Saturday to doing live coverage on his web-show Info Wars on a second American civil war that absolutely never happened, also pushed the idea that the shooter could somehow be an antifa activist.
Jack Posobiec, a pro-Trump figure with a large following on social media, who has a reputation for creating and pushing fake news stories about leftists, posted a screen shot of something that looked like a direct message conversation on Twitter…
On
ZeroHedge
, a libertarian blog, one of the commenters on a post about the mass shooting summed it up this way: " He's Antifa, but you'll never see that confirmed because the FBI is a bunch of leftist commie sympathizing traitors," a user named Gaius Frakkin' wrote.
Hmm… Corporate Media Now Turning On Antifa As Police Militarization Increases Medium Caitlin Johnstone
How Russian & Alt-Right Twitter Accounts Worked Together to Skew the Narrative About Berkeley  by Caroline O.
#Antifa and #Berkeley were hot topics last weekend in America — and in Russia
"Even more troubling: that narrative was influenced by pro-Russian social media networks, including state-sponsored propaganda outlets, botnets, cyborgs, and individual users.
In the case study below, I describe how the narrative surrounding Berkeley was picked up and shaped by Russian-linked influence networks, which saw a chance to drive a wedge in American society and ran with it. Next, I look at the individual accounts and users that were identified as top influencers on Twitter, and explore what they were posting, how they worked together to craft a narrative, and the methods they used to amplify their message. Finally, I look at how news coverage of the events in Berkeley was shaped by the skewed narrative that emerged on social media.
This is just a single case study in a larger story, but it serves as an important reminder that Russia is still exploiting social media to harm U.S. interests — and that plenty of Americans are willing to join in on the effort.
The Russian Connection
Russian-linked influence networks and propaganda arms quickly took interest in the Berkeley protests last weekend. On Sunday afternoon, the top story on the front page of Russian propaganda outlet RT was about the events in Berkeley. (Note that this was the main landing page — not the "America" section).
RT tweeted stories about the protests throughout the day Sunday (and some on Saturday), posting dramatic images and using trending hashtags to maximize their reach. Many of these tweets were retweeted by the semi-automated pro-Kremlin account @TeamTrumpRussia (aka Дepлorabлe Рuссian), which spent much of the day amplifying the hashtags #Berkeley and #Antifa.
On Twitter, the hashtag #Berkeley was amplified by Russian-linked influence networks, as evidenced by the output of the Hamilton 68 dashboard, a project of the Alliance for Securing Democracy, which tracks the activity of 600 Twitter accounts linked to Russian influence operations. These include state-sponsored propaganda outlets like Sputnik and RT, as well as individual users, automated accounts ("bots"), and cyborgs (accounts that produce automated content some of the time, but are human-controlled at other times) that actively and frequently amplify Kremlin propaganda (knowingly, and in some cases, potentially unknowingly)." Read more