Wilbur Ross, Secretary Of Commerce
1990s board of US-Russia Investment Fund, Rothschild Inc's bankruptcy advising team, WL Ross & Co
Neighbor of Trump in NY and at Mar-a-Lago, Wilbur Ross cut a favorable deal along with Carl Icahn, resigned Regulatory Adviser, in the Taj Mahal Casino bankruptcy case while representing Trump's creditors. This saved Trump's business.
"Trump made a bold bet on Atlantic City when he opened a third casino there — the colossal Taj Mahal — in April 1990. Even riskier: He financed the project with $675 million in junk bonds at a 14% interest rate. Within months Trump was struggling to make the massive bond payments as Atlantic City floundered. In stepped Ross, then head of Rothschild Inc's bankruptcy advising team, to represent bondholders, who were pondering forcing the casino into involuntary bankruptcy and ousting Trump. Ross reportedly saw crowds pressed against Trump's limo windows to get a peek at the mogul, and realized the value of Trump's celebrity. He struck a prepackaged bankruptcy deal: Trump would give up 50% of his stake in the Taj but would receive better debt terms and would remain in control. The Donald was back in business: He ultimately made similar deals for his other troubled properties and climbed out of debt and back onto the Forbes 400. Nearly all of Trump's wealth is tied up in real estate, but he has also owned stocks. One holding, according to a May 2016 filing: $250,000-$500,000 worth of Invesco European Growth Fund Class Y shares. (Trump claims to have sold his stock holdings in June, though he has not provided evidence to support the claim.) Ross went into private equity in 2000, forming WL Ross & Co. He still runs it, but he sold it to investment firm Invesco in 2006 for some $375 million. In 2013 Invesco partnered with Trump's son-in-law, Jared Kushner, and others to buy 5 industrial properties from the Jehovah's Witnesses in Brooklyn for $240 million." Forbes
Known Senate and House Intelligence lines of questioning:
Wilbur Ross is Vice Chairman of the Bank of Cyprus and a major stakeholder, oversaw its restructuring.
Viktor Vekselberg, 2nd largest shareholder of the Bank of Cyprus, Putin friend, Renova Corp, formerly Rosneft board.
U.S. Russia Investment Fund (TUSRIF) under Clinton
2008 transfer of the investment arm of TUSRIF to Deutsche Bank
Ross appointed Josef Ackermann to be the Chairman of the Board for the Bank of Cyprus from

Deutsche Bank

, the Trump Organization's Largest Creditor. "Ackermann's ties to Russia were especially strong, including a warm relationship with Putin and Herman Gref of Sberbank. In 2015, while he served as vice-chairman of the Bank of Cyprus, the bank's Russia-based businesses were sold to a Russian banker and consultant, Artem Avetisyan, who had ties to both the Russian president and Russia's largest bank,

Sberbank

. At the time, Sberbank was under US and EU sanctions following Russia's annexation of Crimea." The Guardian
Dmitry Rybolovlev co-invested in the Bank of Cyprus and bought over-inflated home from Trump
Loans and Contacts between Bank of Cyprus and Bank of Cyprus to the Trump Campaign,Trump Organization, its directors or officers, or any affiliated individuals or entities
The Paradise Papers linked Ross to Navigator Holdings (Boardmember) and Sibur
BBC: "Commerce Secretary Wilbur Ross has an interest in Navigator Holdings, which earns millions a year transporting oil and gas for Russian energy firm Sibur. Two major Sibur shareholders are under some form of US sanctions. "Secretary Ross recuses himself from any matters focused on transoceanic shipping vessels," the spokesman told BBC Panorama. Another Sibur shareholder is President Putin's son in law, Kirill Shamalov. He holds a 3.9% stake in the firm. Gennady Timchenko, who has been individually sanctioned by the United States, as have at least 12 companies connected to him, and Leonid Mikhelson, whose main company, Novatek, is also sanctioned, are major shareholders. Sibur itself and Mr Shamalov are not under sanctions, although Mr Shamalov's father, Nikolai, is."
---
---
Wilbur Ross and Steve Mnuchin—Profiteers of the Great Foreclosure Machine—Go to Washington The Nation Mnuchin and Ross led companies that committed fraud to foreclose on millions of homeowners. Now they will be in charge of the entire US economy. What could go wrong? By David Dayen NOVEMBER 30, 2016
---
Exclusive: Trump commerce pick Wilbur Ross faces new Russia questions McClatchy BY KEVIN G. HALL  FEBRUARY 16, 2017
Owns a stake through offshore entities in Navigator Holdings, a shipping firm that receives millions of dollars from a company owned by Vladimir Putin's close allies.
Relationship poses potential conflicts of interest for Ross, who plays a major role in U.S. economic relationships with other countries, including Russia.
Ross' continuing Navigator investment was so indirectly disclosed that Senators who voted on his confirmation didn't know about it.
November 5, 2017- He founded WL Ross & Co in 2000, a private equity firm that acquires struggling companies and sells them for a profit.  "It engineered the purchase of bankrupt American steel producers and reaped huge profits when the George W. Bush administration imposed a 30 percent tariff on steel imports in March 2002.
His newly formed International Steel Group went public the next year and was acquired by Luxembourg giant ArcelorMittal in 2005. Ross' firm went on to invest in other struggling American industries, including textiles in the South and coal in Appalachia. Ross gained a reputation as a financier who breathed life into industries others had left for dead.
But he has been criticized for moving American jobs overseas to improve profits. His private equity firm has also run afoul of securities regulations that require full and candid disclosure in dealings with investors." ICIJ.org 
Vice chairman of Bank of Cyprus PcL. and his namesake investment firm owns 1.6% of the Cypriot bank which WL Ross & Co obtained at a share price of $.024 after the July 2014 bailout, down 26% in 2017. Working with Deutsche Bank AG CEO Josef Ackermann to improve the Bank of Cyprus. Sold WL Ross & Co in 2006. Russian oligarchs create political party in Cyprus
"Ross, who's worth about $2.9 billion according to the Bloomberg Billionaire's Index. A fund overseen by WL Ross is one of the biggest shareholders in the Cypriot lender, which is the nation's largest. Russian billionaire Viktor Vekselberg owns 5.5 percent through his Bahamas-based Renova Group. Ross sold his firm to asset manager Invesco Ltd. in 2006. While Ross's investments in Bank of Cyprus and a stake in Greek lender Eurobank Ergasias SA for an undisclosed amount haven't paid off, he has fared better in the U.K. and Ireland. In Britain, his fund teamed up with Richard Branson's Virgin Money Holdings UK Plc in 2011 to acquire the best parts of failed bank Northern Rock from the government. Ross sold the last of his stake in Virgin Money in November to bring total proceeds of about 550 million pounds ($681 million) on a 360 million-pound investment. In 2014, he sold his shares in Dublin-based Bank of Ireland Plc for a profit of about 500 million euros." Bloomberg
WL Ross & Co invested in Navigator in 2011.
The Guardian March 23, 2017
In 2014, the Bank of Cyprus was still considered to be in a precarious state following a dramatic €10bn rescue of Cyprus's banking sector by the ECB and the IMF. Under the terms of the deal, many of the bank's wealthy Russian deposit holders lost their cash and became shareholders in the bank.
Ross, who had made billions of dollars years earlier by betting on bankrupt steel mills, was known for taking risky bets. But his decision to inject €400m into the bank with other investors encompassed a different kind of risk. It put him at the centre of the biggest financial institution in a country that was widely considered to be a tax haven for Russian oligarchs, even as the US and EU were imposing sanctions on Russia. In 2014, the year he made his investment, the US State Department considered Cyprus an area of "primary concern" for money laundering (pdf), according to its official assessment.
Ross was appointed vice-chairman at the bank after his investment in 2014, a post he shared with a deposit holder-turned-shareholder, Vladimir Strzhalkovsky, referred to in Russian media as a former KGB official and Putin ally. According to the bank's annual reports, the two attended two board meetings together in 2014 and as many as five together in 2015 before Strzhalkovsky's May 2015 resignation from the board. One of the questions that has been posed to Ross by Democratic senators is whether he ever had contact with Strzhalkovsky.
One of Ross's first big decisions at the bank was the appointment of former Deutsche Bank chief executive Josef Ackermann as chairman, whom he chose in part because of Ackermann's "huge Rolodex", according to a 2014 Bloomberg interview.
Ackermann's ties to Russia were especially strong, including a warm relationship with Putin and Herman Gref of Sberbank.
In 2015, while he served as vice-chairman of the Bank of Cyprus, the bank's Russia-based businesses were sold to a Russian banker and consultant, Artem Avetisyan, who had ties to both the Russian president and Russia's largest bank, Sberbank. At the time, Sberbank was under US and EU sanctions following Russia's annexation of Crimea. Avetisyan had earlier been selected by Putin to head a new business branch of the Russian president's strategic initiative agency, which was tasked with improving business and government ties.
Avetisyan's business partner, Oleg Gref, is the son of Herman Gref, Sberbank's chief executive officer, and their consultancy has served as a "partner" to Sberbank, according to their website. Ross had described the Russian businesses – including 120 bank branches in Russia – as being worth "hundreds of millions of euros" in 2014 but they were sold with other assets to Avetisyan for €7m (£6m).
Ross has not been accused of wrongdoing and there is no indication the Russian deal violated US or EU sanctions. Ross resigned from the Bank of Cyprus board after he was confirmed as commerce secretary last month.
Democrats raised questions about Ross's tenure at the Bank of Cyprus before his confirmation, but Ross has said the White House has refused to allow him to respond to the queries. Senator Cory Booker and other Democrats recently sent a third letter to Ross with more questions, including whether Ross had ever done business with companies that were under US sanctions." The Guardian
"The letter cited reporting by McClatchy last December about Vekselberg, who sits atop the Renova Corp., a Russian conglomerate. Aside from his friendship with Russian leader Vladimir Putin, Vekselberg at one time served on the board of directors of the Russian state-controlled oil giant Rosneft. It is under a partial sanction by the U.S. Treasury Department." McClatchyDC
McClatchyDC   BY KEVIN G. HALL     FEBRUARY 26, 2017
"Ross had little history in global banking, but in 2011 he took an ownership stake in Bank of Ireland, the only bank in that nation the government didn't seize. Ross tripled his investment when he sold his Irish stake in June 2014, then months later, he took a gamble on Bank of Cyprus.
Six Democratic senators, led by Florida's Bill Nelson, asked for details about his relationship with big Russian shareholders in Bank of Cyprus, including Viktor Vekselberg, a longtime Putin ally, and Vladimir Strzhalkovsky, a former vice chairman of Bank of Cyprus and a former KGB agent believed to be a Putin associate.
Aides to several of the senators confirmed late Friday that Ross hadn't responded to their questions. The White House sent McClatchy to a Commerce Department transition aide, who didn't respond to questions.
Ross was involved with Russia during the 1990s when President Bill Clinton appointed him to serve on the U.S-Russia Investment Fund. The U.S. government set up an investment fund in 1995 to help push the new Russian nation toward a free-market economy after the Soviet Union collapsed.
 The fund was converted to a nonprofit corporation in 2008 and many of its assets sold off. The banking investments were purchased by a subsidiary of German financial giant Deutsche Bank, led at the time by Josef Ackermann. Ross asked Ackermann to serve as chairman of the reconstituted Bank of Cyprus after his 2014 investment.
Ackermann left Deutsche Bank in 2012. The bank paid $7.2 billion in fines last year to the U.S. government over toxic mortgages it packaged and sold between 2005 and 2007. And last month, the bank agreed to pay almost $630 million to regulators in London and New York to end investigations into complex stock trades in Russia between 2011 and 2015.
Cyprus also features prominently in the Panama Papers, the massive leak of offshore company data from the Panamanian law firm Mossack Fonseca."
---
Wikipedia "He was a banker, known for restructuring failed companies in industries such as steel, coal, telecommunications, foreign investment and textiles. He specializes in leveraged buyouts and distressed businesses. As of February 2017, Forbes magazine has reported that Ross has a net worth of $2.5 billion.[1]
Ross is known as the "King of Bankruptcy" for his experience in buying bankrupt companies, primarily in the manufacturing and steel industries, and later selling them for a large profit after operations improve.[3]"  Wikipedia
---
Ross as the Secretary of Commerce and Alex Acosta as Secretary of Labor preside over the Apprenticeships program, provided by Executive Order on June 15, 2017. He will have up to 20 unpaid staff who interface with corporations to determine apprenticeship opportunities for future employment needs.
Shipper NAVIGATOR HOLDINGS Cayman Islands connection Revealed by The Paradise Papers: WL Ross & Co is the largest shareholder at 31% and Navigator's top clients include Russian energy co. Sibur
Wilbur Ross, the commerce secretary, retained investments in a shipping
firm with business ties to Russian President Vladimir V. Putin's inner circle.
"Mr. Ross's stake in Navigator has been held by a chain of companies in the Cayman Islands, one of several tax havens where much of his wealth, estimated at more than $2 billion, has been tied to similar investment vehicles. Details of these arrangements surfaced in a cache of leaked files from Appleby, one of the world's largest offshore law firms, which administered some 50 companies and partnerships in the Caymans and elsewhere connected to Mr. Ross.
The Appleby documents, obtained by the German newspaper Süddeutsche Zeitung, were shared with the International Consortium of Investigative Journalists and other media organizations, including The New York Times. They show how the Bermuda-based Appleby worked to help the wealthy elite, from Russian oligarchs to Middle Eastern princes, as well as multinational corporations like Apple and Nike, avoid billions of dollars in taxes. In a written response to questions by the Times, James Rockas, a spokesman for Mr. Ross, said that Navigator's relationship with Sibur began before Mr. Ross joined the board in March 2012, and that he had never met the Russian oligarchs who are Sibur's major shareholders. Public records show that Mr. Ross's firm became a major investor in Navigator in November 2011, three months before the company chartered its first ships to Sibur. Another of Navigator's major customers is PDVSA, the Venezuelan state oil company, controlled by the authoritarian regime of Nicolás Maduro. The Trump administration imposed sanctions on PDVSA this summer.
Much like President Trump, whose company sought approval for a hotel project in Moscow as recently as last year, Mr. Ross has long shown an appreciation for the untapped potential of Russian markets when seeking investment opportunities. His involvement there dates at least to the 1990s, when he was appointed by President Bill Clinton to the board of the U.S. Russia Investment Fund, established to promote American business interests in Russia.
In addition to Navigator, his firm also acquired a German rail car company, VTG, which pursued an expansion strategy in Russia before Mr. Ross sold his stake in 2016. And Mr. Ross led a private bailout of the Bank of Cyprus, long regarded as a favorite financial haven of wealthy Russians, after the worldwide economic crisis crippled the Cypriot banking system." NY Times
---
"Ross, a billionaire private equity investor, divested most of his business assets before joining President Donald Trump's Cabinet in February, but he kept a stake in the shipping firm, Navigator Holdings Ltd., which is incorporated in the Marshall Islands in the South Pacific. Offshore entities in which Ross and other investors hold a financial stake controlled 31.5 percent of the company in 2016, according to Navigator's latest annual report.
Among Navigator's largest customers, contributing more than $68 million in revenue since 2014, is the Moscow-based gas and petrochemicals company Sibur.
Commerce and conflict
The commerce secretary's indirect business connection with Putin's son-in-law and oligarch allies emerges from an examination of public records and a leak of millions of offshore financial documents from the Bermuda law firm Appleby obtained by German newspaper Süddeutsche Zeitung and shared with the International Consortium of Investigative Journalists and its global network of media partners. They represent the inner workings of Appleby from the 1950s until 2016. The files include documents from Appleby's corporate services division, which became independent in 2016 under the name Estera.
The leaked files showed a chain of companies and partnerships in the Cayman Islands through which Ross has retained his financial stake in Navigator.
The fact that Ross' Cayman Islands companies benefit from a firm controlled by Putin proxies raises serious potential conflicts of interest, experts say. As commerce secretary, Ross has the power to influence U.S. trade, sanctions and other matters that could affect Sibur's owners. Likewise, Sibur's owners, and through them, Putin himself, could have the ability to increase or decrease Sibur's business with Navigator even as Ross helps steer U.S. policy.
Many of the private equity funds involved in these investments were created and administered by Appleby, an offshore law firm founded in Bermuda . The leaked files offer a window into how Appleby helped his firm, WL Ross & Co. LLC, reap the benefits of offshore havens such as the Cayman Islands, a British territory that permits extraordinary levels of financial secrecy and allows paper companies run from New York and elsewhere to operate there tax-free. In 2015, the Cayman Islands was ranked fifth by the Financial Secrecy Index in its worldwide ratings.
Creating offshore funds organized as corporations can be a major draw for certain investors, by allowing U.S. tax-exempt organizations – including huge pension funds and richly endowed universities – to sidestep an Internal Revenue Service rule the requires them to pay taxes on income obtained using borrowed money. They also help attract non-U.S. investors because their names aren't disclosed to tax authorities in the United States.
General partners in offshore private equity enjoy generous tax breaks in the United States as well, including the ability to count the biggest share of their earnings from the fund as a long-term capital gain, rather than ordinary income. This allows the wealthiest fund managers to reduce the tax on these earnings from the top U.S. rate of 39.6 percent to 20 percent.
When he was nominated as commerce secretary, Ross filed an agreement with the federal Office of Government Ethics that said he intended to divest 80 companies and partnerships, but would keep a stake in nine others that held assets in "real estate financing and mortgage lending" and "transoceanic shipping." The assets were not specified. Even though he had sold WL Ross & Co. to Invesco in 2006, he remained active as chair and CEO until resigning to join the Cabinet.
His financial disclosure form, also filed with the Office of Government Ethics, runs 57 pages and includes a long list under the heading, "Employment Assets & Income and Retirement Accounts." This list is broken down into sections listing assets that appear to be held by each of Ross' companies, detailing as many as seven layers of entities between Ross and the assets he holds.
Buried in a multitude of subsections appear four cryptically named Cayman Islands entities that are among those he said he was keeping: WLR Recovery Associates IV DSS AIV, GP; WLR Recovery Associates IV DSS AIV, LP; WLR Recovery Associates V DSS AIV, GP and WLR Recovery Associates V DSS AIV, LP. All four companies are administered by the Appleby law firm. "Navigator Holdings" is listed among the assets these companies held, but, consistent with the format of the disclosure form, no details about the company or its relationship with Sibur are provided.
The complexity of the offshore structures adds legal and reputational distance and obscures the full extent of Ross's business relationships even as it allows him to profit from them, according to tax and ethics experts consulted by ICIJ.
Ross' disclosure values his combined current stake in the offshore entities that hold Navigator shares at between $2.05 million to $10.1 million. But it is not certain what his total holdings are because he did not list a value for one of the four entities he retained. It is not apparent why or whether a value was omitted. His share represents a fraction of the entities' overall 31.5 percent stake in Navigator, which, based on the firm's stock price on Oct. 30, 2017, is worth roughly $179 million." ICIJ.org
---
"The Süddeutsche Zeitung obtained close to 13.4 million documents. They demonstrate how some clients use offshore companies to mask criminal activity or conceal money from dubious sources. The documents, for instance, expose previously unknown links between a secretary in U.S. President Donald Trump's cabinet and Russian oligarchs. In fact, information on more than a dozen of Trump's advisers, cabinet members and major donors can be found in the leaked data."
"The International Consortium of Investigative Journalists and 95 media partners explored 13.4 million leaked files from a combination of offshore service providers and the company registries of some of the world's most secretive countries. The Paradise Papers documents include nearly 7 million loan agreements, financial statements, emails, trust deeds and other paperwork from nearly 50 years at Appleby, a leading offshore law firm with offices in Bermuda and beyond." ICIJ.org
Records leaked from an offshore law firm show how the wealthy elite sidestep
prohibitions on foreigners registering private planes in the United States.
"Still, the Bank of Utah executives were surprised to learn that they had aided Mr. Mikhelson, the Russian oligarch. When told the name of the offshore shell company that Mr. Mikhelson used to manage his Gulfstream jet, Mr. Croasmun interrupted the interview to check the bank's files. He confirmed that the shell company had been a client since 2013 — but information identifying Mr. Mikhelson as the man behind it "was nowhere that I saw in the files."
According to a flow chart created by Appleby's Isle of Man office for the Mikhelson account, the ownership chain for his jet began in Panama, with a company called Golden Star Aviation, which registered on the Isle of Man and then leased the aircraft to a Cayman Islands company called SWGI Growth Fund. Both companies were controlled by Mr. Mikhelson.
A due-diligence report by Appleby noted Mr. Mikhelson's source of wealth — valued currently at about $18 billion — from oil and gas investments, notably through Novatek, Russia's largest nongovernment-owned gas company. Mr. Mikhelson's main business partner is Gennady Timchenko, a close friend of Mr. Putin's. The two businessmen are the primary investors in Sibur, a Russian gas-processing company."
---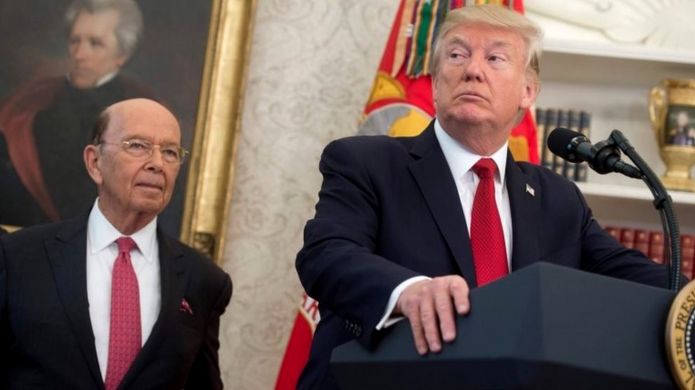 "A top member of Donald Trump's administration has business links with Russian allies of President Vladimir Putin who are under US sanctions, the Paradise Papers have revealed.
Commerce Secretary Wilbur Ross has an interest in Navigator Holdings, which earns millions a year transporting oil and gas for Russian energy firm Sibur.
Two major Sibur shareholders are under some form of US sanctions. A commerce department spokesman did not dispute the revelations.
"Secretary Ross recuses himself from any matters focused on transoceanic shipping vessels," the spokesman told BBC Panorama, adding that the secretary "works closely with Commerce Department ethics officials to ensure the highest ethical standards".
Another Sibur shareholder is President Putin's son in law, Kirill Shamalov.
He holds a 3.9% stake in the firm. Gennady Timchenko, who has been individually sanctioned by the United States, as have at least 12 companies connected to him, and Leonid Mikhelson, whose main company, Novatek, is also sanctioned, are major shareholders.
Sibur itself and Mr Shamalov are not under sanctions, although Mr Shamalov's father, Nikolai, is.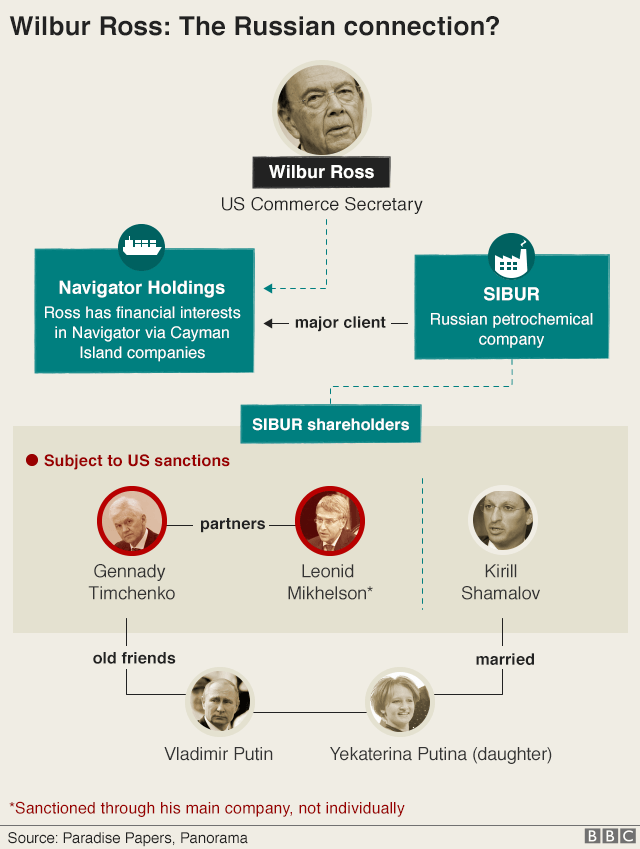 The commerce department spokesman said Mr Ross had never met the three Russian shareholders.
The US imposed some sanctions after Russia annexed Crimea in 2014. Others were imposed last year for alleged interference in the US presidential election.
The revelations will again raise questions about the Russian connections of Donald Trump's team. His presidency has been dogged by allegations that Russians colluded to try to influence the outcome of the election. He has called the allegations "fake news". A special counsel is investigating the matter.
Wilbur Ross and Donald Trump have known each other for more than a quarter of a century. Mr Ross played a key part in a prepackaged bankruptcy deal – deal agreed between a company and its creditors – for Mr Trump's Atlantic City casino, the Taj Mahal, in the 1990s.
Trump biographer David Cay Johnston told BBC Panorama: "If it hadn't been for Wilbur Ross, Donald Trump would not be in the White House.
Major client
WL Ross & Co, which was founded by Wilbur Ross, first invested in Navigator Holdings in 2011.
An investigation has revealed details of how Mr Ross retains a financial interest in Navigator Holdings via a number of companies in the Cayman Islands.
Some of these Cayman companies were disclosed by Mr Ross when he became commerce secretary, but under the disclosure rules he did not have to declare his interest in Navigator Holdings.
Its annual report in 2016 showed 31.5% was still held by entities in which Mr Ross has a stake, although the value of Mr Ross's personal holding remains unclear.

When Trump met Ross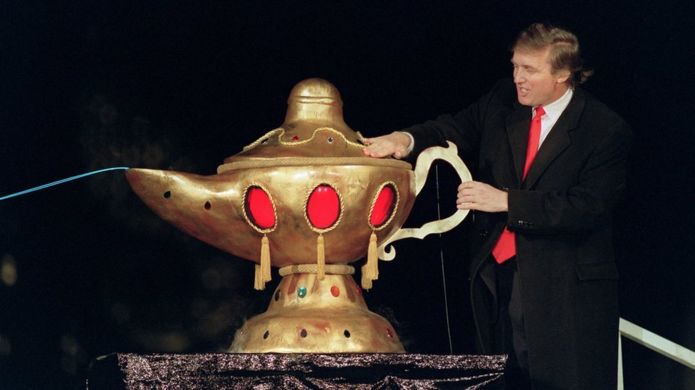 Back in 1990, after a high-profile financial battle, Donald Trump opened his third casino in Atlantic City – the Taj Mahal, dubbed the "eighth wonder of the world". It didn't go well. Mr Trump financed it with $675m raised through junk bonds at an interest rate of 14%. He struggled to make the payments. Step in Wilbur Ross. Then at Rothschild Inc, he was representing the angry bondholders but liked Donald Trump's style. Trump biographer David Cay Johnston said: "Wilbur Ross was a key negotiator in Donald Trump not having to go through bankruptcy and not being swept into the dustbin of history because he saw the value in the Trump name."
Mr Ross said at this year's Concordia Annual Summit: "When you meet people who are under tremendous financial pressure… you really get to see what they are made of, and he was made of much stronger stuff than a lot of owners of troubled businesses." One prepackaged bankruptcy later and The Donald was on his way out of debt and heading up the Forbes rich list.

Wilbur Ross became a board member of Navigator in 2012 but the commerce department said he was not on the board when Navigator signed its charter deal with Sibur that year.
But Mr Ross was still a board member during the period from March to November 2014, when the US was sanctioning Russians over the annexation of Crimea, including Mr Timchenko and Mr Mikhelson's company, Novatek.
During that period Navigator continued to increase its business with Sibur. The energy firm accounted for 9.1% of Navigator's total revenues in 2015, compared with 5.3% in 2014, Navigator's own filings show.
Mr Ross left Navigator's board in November 2014 but his seat was taken by Ross group partner Wendy Teramoto, who served on it until 2017.
Figures from 2016 showed Sibur was still among Navigator's top five clients, predominantly exporting Russian gas to Europe and potentially providing significant income to sanctioned Putin allies.
This year, Navigator doubled the fleet it is using on Sibur exports to four. Sibur has provided Navigator with $68m (£49m) in revenue since 2014. There is no suggestion Mr Ross has violated any rules.
But Daniel Fried, who oversaw the introduction of US sanctions against Russia under President Barack Obama, told Panorama that it would be a mistake for any American official to do business with Sibur.
"I would advise any client who came to me to stay well away from Sibur or anybody else who has been sanctioned or has a relationship with sanctioned individuals… on the grounds, at least, of reputational risk."
But Mr Ross appears to have maintained a close relationship with the shipping company.
On the night that he was nominated as commerce secretary by President Trump, Mr Ross went to a restaurant in New York where he was congratulated on his promotion by the senior management of Navigator Holdings, Bloomberg reported .
Mr Ross reportedly told the CEO of Navigator: "Your interest is aligned to mine. The US economy will grow, and Navigator will be a beneficiary."
Another key Navigator customer has been PDVSA, the Venezuelan state oil company. It was targeted by US sanctions this year.
The commerce department said Mr Ross had "been generally supportive of the Administration's sanctions of Russian and other entities".