Julia Hahn, Special Assistant to Trump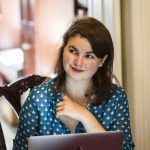 Birth Of A Radical, White Fear in the White House: Young Bannon Disciple Julia Hahn Is A Case Study In Extremism. "The Breitbart reporter was Julia Hahn, a Bannon protégé who followed him into the White House as a special assistant to President Trump. The few in-depth stories about her getting a job at the White House have mostly focused on her lashing criticism of Paul Ryan, the House speaker whose conservative positions on immigration were far too permissive for Bannon, Hahn, and the rest of Breitbart. She was raised in Beverly Hills, attended a private high school, and the only wisp of political activity in her adolescence was a decidedly liberal, pro-immigration gesture: She raised money for a group that brought foreign orphans to the United States. She majored in philosophy at the University of Chicago…Not long after she was appointed to the White House at the age of just 25, one of her college friends reacted by writing on Facebook, "It's weird because she was always very nice and it's disappointing when seemingly nice people turn out to be Nazis/Nazi-adjacent." Another friend asked, "WTF happened???" How does someone who raised money for foreign orphans write, a few years later, a screed for Breitbart headlined "Muslim Immigration Puts Half a Million U.S. Girls at Risk of Genital Mutilation"?   Hahn jolted to ideological life in the first job she landed — as a producer for right-wing radio host Laura Ingraham. Hahn worked for Ingraham for about a year, then became a spokesperson for David Brat, an insurgent Republican who used the issue of immigration to defeat House Majority Leader Eric Cantor.
Bannon and Hahn even co-wrote a story that flayed Paul Ryan. One of Hahn's stories accused Hillary Clinton of planning to resettle a million Muslims in America, and another article warned ominously that under Clinton the number of Muslims in America would exceed the number in Germany — an irrelevant comparison because Germany's population is several times smaller. One of Hahn's anti-immigration articles was headlined "Clinton Releases Plan to Dissolve U.S. Border Within 100 Days."  But in 2015, when Bannon started talking about "The Camp of the Saints," Hahn wrote about it too. Her story argued that the book was prophetic because it warned that "the liberalism of the West would cause Western nations to throw open their doors to so many migrants that it would spell the doom of liberal society itself."
Julia Hahn's opposites are not the young and impressionable Muslims who adopt hate-filled ideas about infidels. They are her mirror image.
A surprising number of alt-right leaders come from a single wealthy liberal enclave: the west side of Los Angeles.
According to a report from the Southern Poverty Law Center, California has more far-right conspiratorial "Patriot" groups, 81, than any other state in the country (Texas, the runner-up, has 79). California may be the "Left Coast," but it is also the beating heart of the far-right coast." The Intercept