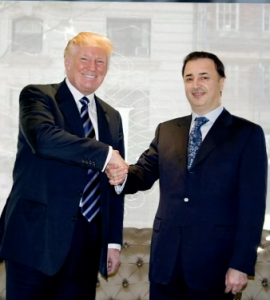 ZEMBLA: The Dubious Friends of Donald Trump: King Of Diamonds
Lev Leviev's support of illegal Israeli Palestinian settlements caused many to reject Leviev Diamonds. Ivana Trump wore Leviev diamonds at her wedding. Starting in 1995, supported Angola's civil war financed by blood diamonds, by becoming friends with President dos Santos, and part owner of the largest diamond mine in Angola, also investing in distributor Ascorp. Connected to Putin and Benjamin Netanyahu. Accused of smuggling diamonds and cash.
Leviev is the primary financier of Chabad, per ZEMBLA. Jared Kushner also supports Israeli West Bank settlements, and Jared has knows Netanyahu since he was a little boy, sometimes spending the night at the Kushners, stated at the February 15, 2017 press conference.
AFI Real Estate sold part of the former NY Times building to Jared Kushner.
Daughter Chagit Sofiev-Leviev is a friend of Ivanka Trump, who had a jewelry business until forced closure related to Moshe Lax.
L.L.D. Diamonds, Namibia-investigated for smuggling diamonds out of the country to avoid paying Namibia
88 Queensway Group, 2 Pacific Place, 10th Floor, 88 Queensway, Hong Kong. Appeared in 2006/7  Report by JR Mailey for the US Department of Defense. Chinese and HK investors, including Leviev, investigated for arms trafficking, diamond smuggling, bribing official. Behind it: Sam Pa, Chinese Intelligence with 7 different aliases. Supports dictator Mugabe's security service for election fraud and diamond smuggling in Zimbabwe, and US Sanctioned Sam Pa for this. Also supports North Korea, and 88 Queensway's Fong Hung Lo photographed as project manager, "appeared to be the power behind the throne"-Mailey Connected to HSBC, Glencore,