Republican Party

GOP Lobbyists–

American Conservative Union

head David Keene left for the NRA in 2011

John Bolton, NRA head of international affairs subcommittee within the legislative policy committee
Federalist Society-Leonard Leo also runs America Engaged ($950,000 to the NRA's

Institute for Legislative Action

in 2017 & $700,000 to

Freedom Partners

Chamber of Commerce/Koch)
Russiagate: The Investigated

Alexander Torshin

– Taganskaya mafia's "Godfather", Close to Spetznaz,Deputy Governor of the Russian Central Bank , Butina's boss, Night Wolves
Paul Erickson

Jack Abramoff– Family Shell Co. received a Butina/Erickson $15,000 wire transfer in after March 2017; 1995 lobbied with Paul Erickson & David Keene for Zaire's President (Dictator) Mobutu
In 2011, Maria Butina founded "Right To Bear Arms"
March 2015 Butina and Erickson wrote the Description of the Diplomacy Project and requested $125,000 from a Russian billionaire to attend the conferences and separate meetings.
April 2015 Butina attended a NRA convention and met prominent Republicans.
December 2015, Butina, with Erickson's assistance, invited NRA members Moscow and asked Torshin to set up meetings with high-level Russians.
Butina co-hosted "friendship dinners" with a connected and wealthy U.S. person, whom she emailed in March 2016 stating Russian support from Torshin.
May 2016, Torshin requested that Butina write a note to his superiors to justify his attendance at an NRA meeting.
November 2016 Torshin email Butina that he didn't think the MFA would "go for" her ideas on how to communicate with Trump's advisors.
Butina helped Torshin organize a Russian delegation to the 2017 National Prayer Breakfast in Washington D.C., handpicked to establish a back channel. "Reaction to the delegation's presence in America will be relayed DIRECTLY" to the Russian President and Foreign Minister."
July 15, 2018, arrested in Washington D.C. for "conspiracy to commit an offense against the United States, 18 U.S.C. §951(Foreign Relations, Agents of foreign governments), in violation of 18 U.S.C. §371 (Conspiracy).[38] After her arrest, it was mistakenly reported she was charged with a violation of the Foreign Agents Registration Act (22 U.S.C. §11  Foreign Agents AND Propaganda). Wikipedia.      CRIMINAL COMPLAINT.  March 14, 2016 emailed to develop conspiracy, August 2016 Butina entered the US on an F-1 Student Visa to study at American University in Washington DC. September 26, 2016 Butina emailed to organize an event to influence views of US officials about Russia.
December 8, 2018 Butina Plead Guilty  "Person #1" is Paul Erickson, "Person #2" reported as George O'Neill Jr., Rockefeller heir and conservative writer WSJ
A little background on Torshin and Butina:
EXCLUSIVE: Butina and Torshin linked to Russian private military company working in Ukraine The Stern Facts August 24, 2018
---
NRA leader, Jack Abramoff and GOP operative tied to alleged Russian spy Maria Butina have long history as foreign agents lobbying together Open Secrets By Anna Massoglia 
December 10, 2018 "Meanwhile, David Keene — a paid member of the NRA's board of directors and former president of the gun rights organization who has faced scrutiny over ties to Butina's alleged Russian influence operation — has registered as a different type of foreign agent lobbying for Algeria's government.
Keene and Erickson have a long history together dating back to the 1990s when they were registered foreign agents lobbying, in collaboration with Jack Abramoff, for a well-known "dictator" to gain entry into the United States."
---
February 2, 2017 National Prayer Breakfast Remarks by President Trump at National Prayer Breakfast
"Butina, 30, who now admits she worked as an undeclared Kremlin agent, helped arrange for these and five other Russians chosen by a top official to attend the 2017 National Prayer Breakfast, which was held just two weeks after Trump's inauguration, according to U.S. prosecutors. "People in the list are handpicked" by Butina and the official "and are VERY influential in Russia," she wrote in a November 2016 email cited by prosecutors. "They are coming to establish a back channel of communication." The other Russians, most of whose names haven't previously been disclosed, are identified in documents reviewed by Bloomberg News. In addition to attending the annual event, where Trump gave the keynote speech to some 3,500 guests, the delegates went to meetings that Butina helped arrange with politically connected Americans — the culmination of her now-admitted multiyear effort to forge inroads into the U.S. conservative movement, including the National Rifle Association. Another was Butina's main contact in Moscow, then-central bank deputy chief Alexander Torshin, who's been accused by Spain of being a handlerfor Russian organized crime, which he denies. Torshin said through the central bank's press service last year that the 2017 prayer breakfast was his 12th. A month before the gathering in Washington, according to the U.S., the person believed to be [Paul] Erickson said in an email that the Russian delegation was well curated. In addition to Torshin, he wrote, "the list is populated by key mayors, university presidents and personal advisors to President Putin." "Reaction to the delegation's presence in America will be relayed DIRECTLY" to the Russian president and foreign minister, he wrote in an email copying Butina, prosecutors said.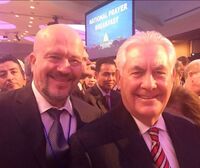 Source: Facebook
Andrey Kolyadin and Sergei Shakhov had left their jobs in the Kremlin's domestic politics section to work as advisers in the private sector, though Kolyadin continued to consult the presidential administration on various policy matters.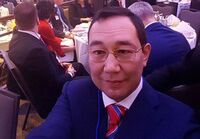 Aisen Nikolaev was the mayor of the Siberian city of Yakutsk, 280 miles below the Arctic Circle, at the time of the Washington visit. One of his aims is to bring the woolly mammoth back to life by cloning one of the scores of frozen carcasses that are peppered in the permafrost throughout Yakutsk.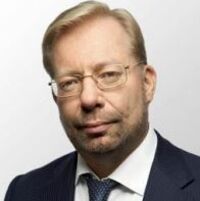 Stanislav Puginsky is part-owner of Egorov, Puginsky, Afanasiev & Partners, one of Russia's largest law firms. The practice was co-founded by one of Putin's classmates from his law school days in St. Petersburg. The firm's website says Puginsky specializes in "complex dispute resolution, government property management, drafting of laws, government relations, corporate governance, bankruptcy of strategic enterprises and other matters of the highest complexity."
Stanislav Puginsky Source: EPAM
Vadim Lobov heads Synergy University, a for-profit institution based in Moscow known for inviting U.S. business and cultural figures to its conferences. Synergy, which has 35,000 students across the country, sells T-shirts online with patriotic slogans such as "Crimea Is Ours" and "The Russian Empire — Reloaded."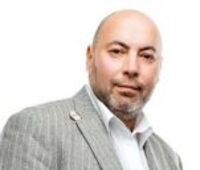 Igor Pisarsky is a veteran public-relations executive and a professor at the Higher School of Economics in Moscow. The chairman and co-owner of the R.I.M. Porter Novelli PR agency in Moscow worked with Butina on her early gun-rights efforts in Russia.
Vlasta Guryeva is a Russian-born fashion designer and consultant who was asked to help with translation and logistics for the delegation, according to participants. She said in her "Girl of the Week" profile in the Russian version of Elle magazine in 2013 that she believes "all thoughts materialize and nothing is impossible." Elle called her the creative force behind Sophie Goes Round, a lifestyle blog that features a lot of nude photos. Guryeva lives in New York and goes by the name Vlasta Gary.
Alexander Karpov is a shareholder in GK Regiony, a major developer of shopping centers controlled by Zelimkhan Mutsoev, a multimillionaire member of Russia's lower house of parliament. The Instagram photo that Paris Hilton posted of her and Mutsoev's two sons at at a company event in Moscow in 2013 got 24,236 likes.
Little is publicly known about Alexander Yerkhov beyond several media reports about a 2013 incident in Moscow in which the bodyguards of a man with the same name and general description were recorded roughing up a motorist who failed to yield to his Bentley. One member of the delegation called Yerkhov a mercurial character who barely said a word the entire trip. Yerkhov couldn't be reached for comment."
This is Butina's handler Alexander Torshin. One of many examples of how blatant it's been from the beginnimg. Russians were not trying too hard to keep it secret. pic.twitter.com/dFiqN06IOS

— Kissinger (@MAGA4Whom) December 17, 2018
December 8-15, 2015 Moscow Visit with Sanctioned Dmitry Rogozin 

If you haven't already linked this timeline doozy, here's another. Remember "Sheriff" Clarke? He was part of the group Butina organized the trip to Moscow for in Dec 15. Guess who was across town at exact time dining w Putin? None other than Flynn. pic.twitter.com/M6fG5VMANk

— Kissinger (@MAGA4Whom) December 17, 2018
NRA leader, Jack Abramoff and GOP operative tied to alleged Russian spy Maria Butina have long history as foreign agents lobbying together Open Secrets By Anna Massoglia "The convoy to Moscow included Keene, Trump campaign surrogate Sheriff David Clarke, president and CEO of the Outdoor Channel Jim Liberatore, soon-to-be NRA president Peter Brownell and NRA donors Jim Gregory, Arnold Goldschlager and Hilary Goldschlager. Alexander Torshin — a Russian politician and longtime associate of Butina who has since come under U.S. sanctions — played a key role in the trip and, allegedly, Russia's decade-long operation infiltrating American conservative groups. A conservative Nashville lawyer named G. Kline Preston IV who has done business in Russia claims that he first introduced David Keene to Torshin in 2011 while Keene was NRA president.
Keene and Torshin quickly forged an alliance based on mutual interests.
"Just a brief note to let you know just how much I enjoyed meeting in Pittsburgh during the NRA annual meeting," Keene wrote in a 2011 letter later obtained by anti-corruption activists in Russia that extended a personal invitation to the NRA's conference the following year."
October 31-November 1, 2013 Maria Butina hosted David Keene as President of the NRA for her "Right to Arms" event. VIDEO HERE
"By 2013, Keene was introduced as an honored guest at the Right to Bear Arms conference in Moscow. "There are no peoples that are more alike than Americans and Russians," Keene said. "We're hunters. We're shooters. We value the same kinds of things… we need to work together."
Erickson accompanied Keene to the 2013 conference, where he reportedly first crossed paths with Butina.
Senate intelligence and finance committees have reportedly requested documents on the NRA's connections to Russia, including documents related to whether the NRA took Russian money and the 2015 delegation. After spending a record $54.4 million to put President Donald Trump in the White House and support Republicans in Congress, the NRA's membership dues dropped precipitously the following year.
Although the NRA's lawyers initially denied the Russian money, they eventually admitted to receiving "a total of approximately $2,512.85 from people associated Russian addresses" and "about $525" from two Russian nationals living in the United States in a letter to Sen. Ron Wyden (D-Ore.).
The NRA also acknowledged "membership dues" from Torshin, who has been a non-voting life member of the NRA since 2012 — the year after he first connected with Keene.
Keene's wife, in collaboration with Erickson, reportedly offered Butina $1 million to help secure 5 million barrels of Russian jet fuel — nearly two times all of Russia's refineries exports in a month — in an unsuccessful scheme to sell the fuel through an American middleman in 2017." Open Secrets