Energy in

MENA-Middle East N. Africa
Kushner Middle East Peace Plan – United front between N Africa against Iran-Turkish power alliance bordering Southern former Soviet Bloc-(The "-Stans")

 

Middle East Eye

  

March 19, 2018 "Nader said this group of states could become a force in the region "that the US government could depend on" to counter the influence of

Turkey

and

Iran

, according to two sources briefed on the meeting.

N

ader brought together Mohammed bin Salman, who was then deputy crown prince of Saudi Arabia; Mohammed bin Zayed, crown prince of Abu Dhabi; Abdel Fattah al-Sisi, president of Egypt; Prince Salman, crown prince of Bahrain; and King Abdullah of Jordan onto the yacht. Their respective states, plus Libya which was not represented at the secret summit, would form the nucleus of pro-US and pro-Israeli states."

George Nader

–Pedophile, multiple convictions, in US custody, close to MBZ
The East Med Gas Pipeline Project
Subsea and onshore gas pipeline running 2,000- 2,200 km for Israeli and Cypriot gas from the existing fields and future discoveries to Greece and Italy for European Markets.
"The new solidarity rule in the European Union, that is due to ensure the proper division of gas in case of a crisis, could promote the ambitious offshore gas pipeline project to Italy." Gina Cohen argues that Israel will offer a more flexible pricing mechanism in Hebrew Energy. http://www.hebrewenergy.com/wp-content/uploads/2017/10/Israeli-gas-to-Europe-–-a-project-with-a-difference-–-By-Gina-Cohen-15.10.2017.pdf. "
The Leviathan gas field has business with an international consortium including Israeli Ratio Oil Exploration
Israeli Minister of Energy Yuval Steinitz, George Papadopoulos and many others promote the project
Dutch-Turkish Kamil Ekim Alptekin hired Michael Flynn to advise him on a Ratio contract and to track Turkish scholar 

Fethullah Gulen

, wanted by

Erdogan/Turkey

. 

 
Ex-Trump aide Flynn investigated over plot to kidnap Turkish dissident [Fethullah Gulen] – report The Guardian
November 10, 2017   "In September, the Wall Street Journal reported a meeting about the plan, in which former CIA director James Woolsey is said to have participated. Friday's report describes a second meeting involving both Flynns at the 21 Club restaurant, a prohibition-era New York speakeasy patronised by Trump, in mid-December. According to "people familiar with the investigation", it was at this encounter that the $15m payment was discussed.    One source said Gülen would be seized and flown by private jet to the Turkish prison island of Imrali. It is not clear if any money changed hands or if any preparatory steps were taken.    The timing of the 21 Club meeting is significant. The White House has distanced itself from the men charged by Mueller – Papadopoulos, former campaign manager Paul Manafort and his business associate Rick Gates. But by mid-December Trump had named Flynn national security adviser and he was playing a central role in the transition." The Guardian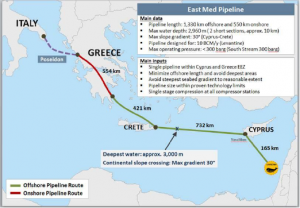 Papadopoulos And Flynn Client Both Tied To Israeli Energy Consortium
"Last year, while serving as a Trump foreign policy adviser, Papadopoulos appeared on an Israeli energy conference panel that included Yigal Landau, CEO of Ratio Oil Exploration, one of several Israeli and US firms that are part of the consortium exploiting Leviathan.

Documents obtained and reviewed by BuzzFeed News earlier this year showed Ratio had a business relationship with Kamil Ekim Alptekin. The Dutch-Turkish businessman has been subpoenaed by Mueller's investigators in connection to his hiring of Flynn's consulting firm.

Alptekin attended a November 2016 energy conference in Tel Aviv as a guest of Ratio, but a source close to Alptekin denied he had any ties to Papadopoulos, and described both men's connection to the Leviathan project as coincidental.

The connection may add to the growing picture of Papadopoulos, who has become a subject of scrutiny since his plea deal was unsealed on Monday. Although The Daily Caller reported that former Trump campaign official Sam Clovis approved of his joining the Trump camp in March 2016 — he also appears in a photo of the March 2016 meeting with Trump, Clovis and now-Attorney General Jeff Sessions among others — it remains unclear how he was brought into the Trump camp's orbit.